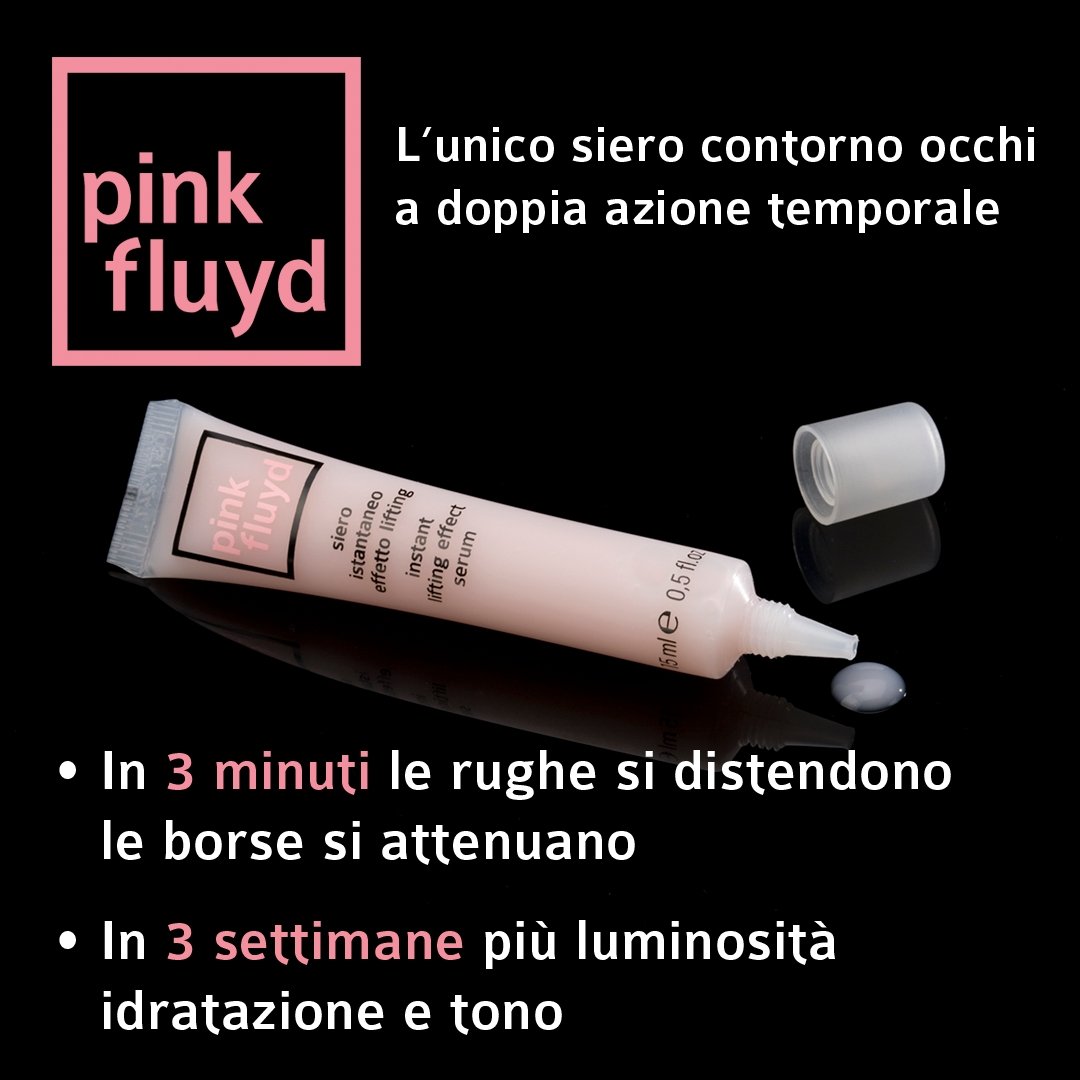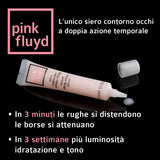 PINK FLUYD - EYE CONTOUR SERUM - 15 ML
Descrizione

functional substances

Recommended for:

The result:

How to use:

Ingredients
Pink fluyd is a revolutionary fast-acting anti-aging serum, capable of solving the main blemishes around the eyes.
In just three minutes the finest wrinkles are smoothed out and bags are reduced and after three weeks the results stabilize in a moisturizing and tightening effect.
The uniqueness of the pink fluyd formula is that it contains both instant effect and anti-aging active ingredients, thus guaranteeing the immediate smoothing out of bags and the eye contour simultaneously with a rejuvenation of the entire eye area with constant use over the course of time.
15ml tube
Betaine (Betaine): extracted from sugar beet is the secret of this plant to remain turgid and hydrated, moreover, its ability to counteract aging processes make it an important ally in repairing and protecting the skin.
Vitamin E (Tocopheryl Acetate): performs a powerful antioxidant action, participates in the proper functioning of connective tissues, has moisturizing, soothing and protective characteristics against photoaging. Vitamin E also helps decrease water loss through transpiration (TEWL).
Apple Stem Cells, Extract ( Malus Domestica Fruit Cell Culture Extract ): this apple of Swiss origin has the ability to stay fresh longer than others, very rich in vitamins and minerals it has a great resistance to oxidative stress. The properties of apple plant stem cells are exceptional, in fact they manage to protect collagen and elastin from degradation and enhance cellular self-repair. Its actions in cosmetics are very important, it is an antioxidant, an epidermal and anti-aging renewer, it reactivates the natural biological processes slowed down by stress, oxidation, smog, an unhealthy lifestyle, smoking and alcohol.
Tripeptide-38 oligopeptide that increases epidermal firmness. Considered the most avant-garde among anti-aging active ingredients due to its low molecular weight.
Phospholipids (PhosPholipids): components of the cell membrane, these molecules have a particular constitution, in fact they manage to keep together both aqueous and lipidic substances that are not normally assimilable. Very rich in polyunsaturated fatty acids, they regenerate the hydrolipidic barrier with a soothing, moisturizing and anti-inflammatory action.
Particles with a "soft focus" effect: which are inserted into the skin acting as "fillers"; they manage to reflect the light and illuminate even the deepest parts of the wrinkle, thus masking the shadow areas that form inside the furrow itself, thus giving the illusion of filling.
the treatment with immediate effects of periocular blemishes such as bags, dark circles, expression lines.
in 3 minutes wrinkles are smoothed out and bags under the eyes are reduced thanks to the microparticles present in the formulation.
In 3 weeks the skin gains luminosity, hydration and tone, thanks to the presence of functional ingredients with a long-lasting effect such as Vitamin E, betaine (moisturizing substance of vegetable origin), biomimetic oligopeptide and stem cell extract from apple (Uttwiler Spätlauber).
Shake well before use
Use a small amount of product (0.1cc or one drop).
Apply the serum by tapping on perfectly cleansed skin free of make-up or oily residues. After total absorption of the product, it is possible to apply cream, concealer or any make-up product.
Wait about 3 minutes without stimulating the facial muscles, to allow the product to spread over the epidermal surface in an optimal way.
The perception of the tightening effect is normal and demonstrates the activity of the product. The tightening effect lasts a few hours and is influenced by perspiration and the climate.
In case of contact with the mucous membranes (eyes and lips) it is advisable to rinse thoroughly with running water. After application, a slight white tinge may form which can be hidden with the application of a common cream, or better yet, by tapping a fluid concealer on the affected area. Over time and after several trials it is possible to find the right amount to obtain the best result while avoiding the unwanted effect of the slight white patina.
AQUA (WATER), SODIUM SILICATE, PROPYLENE GLYCOL, GLYCERIN, MAGNESIUM ALUMINUM, SILICATE, POLYSORBATE 20, LACTIC ACID, BETAINE, CELLULOSE GUM, TOCOPHERYL ACETATE, MALUS DOMESTICA FRUIT CELL CULTURE EXTRACT, PALMITOYL TRIPEPTIDE-38, PHOSPHOLIPIDS, LONICERA CAPRIFOLIUM EXTRACT ( LONICERA CAPRIFOLIUM (HONEYSUCKLE) FLOWER EXTRACT), LONICERA JAPONICA EXTRACT (LONICERA JAPONICA (HONEYSUCKLE) FLOWER EXTRACT), HYDROXYPROPYL CYCLODEXTRIN, XANTHAN GUM, PARFUM (FRAGRANCE), PHENOXYETHANOL, TETRASODIUM EDTA, CI 17200 (RED 33).