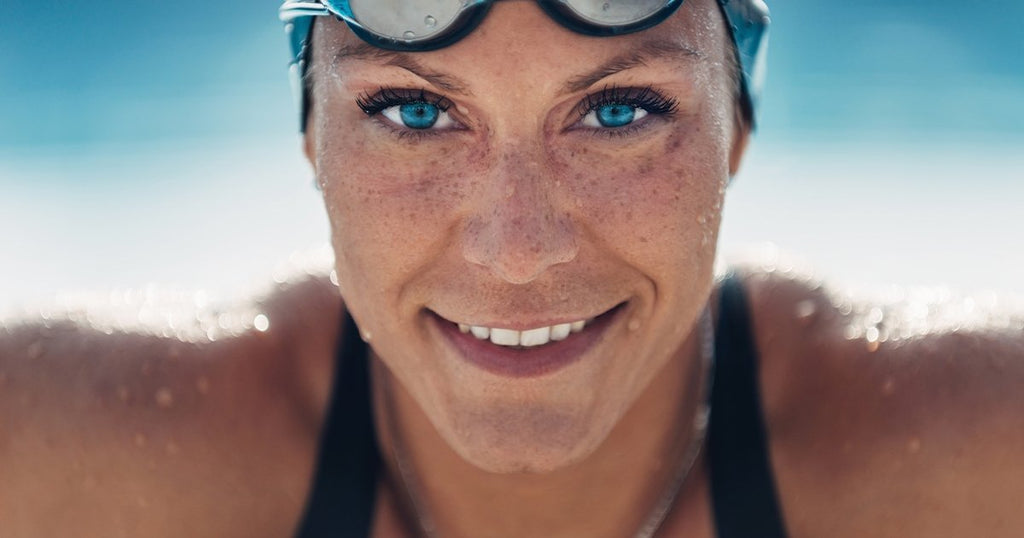 Will you see beach holidays again next year?
Don't be sad, on the contrary, enjoy the pool!
Fresh, funny, full of laughter, full of people…full of…chlorine!
It is an excellent choice to counteract the summer heat without going too far from home.
Leave in the morning, find your shady space on the lawn and start relaxing, a book, a chat with the neighbors or, if you're with family and friends, even better. As soon as the heat becomes unbearable you dive.
Do you also like swimming with your head underwater and hearing muffled noises?
When you get out of the water remember, please, to rinse off the chlorine and put the sunscreen back on.
And then again friends, chats, the sun... well, I don't know about you, but at this point I start to feel my eyes burning, my eyelids twitching and, when I get home in the evening, my entire eye area is red and dehydrated.
The eyes are the mirror of the soul, how many times have we heard it said! It is true that when we have tired, swollen, red eyes, our overall appearance changes.
This is why it is essential to take care of the epidermis that lines the eye contour, so delicate and thin.
So here comes the time to resort to the wisdom of nature with Staminalis!
A nice pack on the whole face, especially the eye contour, with Pink Water micellar water, refreshing, soothing, cleansing and moisturizing is exactly what is needed to restore the skin to a state of normality and well-being. It will be a kind of fresh and quick moisturizing face mask.
Then a veil of eye contour gel cream, its botox-like action reduces small wrinkles, reduces puffiness and redness because it is rich in fantastic active ingredients such as caffeine, blueberry, biomimetic oligopeptides and plant stem cell extract for perfect skin deeply regenerated.
Yes, I know, are you waiting for your virtual beautician to show you the right beauty routine because you always have the doubt: eye contour serum before or after the cream?
We find out right away!
1-in the morning cleanse the eye area with two pads soaked in Pink Water or Phytoceutical Milk, rinse with fresh water and spray the Phytoceutical Tonic (if you use Pink Water you can also leave it alone).
2- Upon returning home from the pool or from a normal sultry summer day, if necessary remove make-up, then prepare a pack with two/three tissue papers for the face, neck and décolleté by soaking them with two/three sprays of Pink Water micellar water, apply them taking care to make them adhere well over the entire surface. Leave on for 5 to 15 minutes, remove and eliminate the tissue paper. This, as mentioned, will be  a full-fledged hydrating eye mask!
3- Apply a veil of eye contour cream specific to your needs* with delicate but decisive crescent-shaped strokes, from the inside outwards and upwards, first on the lower eyelid, then on the upper eyelid and stay on the temples for two seconds without pressing too much but as if you had to "release tension".
4- Finally, apply your favorite face cream. 
So, face and eye contour moisturizer done, let's move on to some extra advice!
Not sure which eye cream to choose? 
Text me on 3441844474 , I'll listen to you and help you figure out what's best for your needs.
However, it seems only right to give you a general indication on the Staminalis eye contour products, which are the best phytoceutical eye contour serums out there and which you can find on our website:
Pink Fluyd: instant tightening effect, long-lasting anti-aging effect, suitable for all skin types, immediately deflates bags, reduces fine lines around the eyes and masks dark circles and small signs of age or tiredness. It is essential to scrupulously follow the recommended method of use. It can be used before makeup for a TOP evening. 
Be careful not to use foundations that are too fluid because they could remove it and reduce its effectiveness. It is much loved by make up artists.
Gel Cream: suitable for all skin types, very moisturizing and refreshing, excellent anti-ageing and very rich in active ingredients, in 21 days of use you will notice the reduction of expression lines and a marked improvement in the tissue.
Trilogy Platinum: the top of the Staminalis line, suitable for the most demanding skins to counteract the effects of chrono and photo-aging. Velvety, sensorial, performing. 
Among the extraordinary assets we can find latest generation antioxidants that make this product the "must have" for those who want to make their eyes shine with beauty and well-being.