Useful information
With immediate effect, it smooths out bags and wrinkles around the eyes
Anti-aging action on the eye contour area
Smoothing effect on crow's feet
Hydrates and brightens the eye area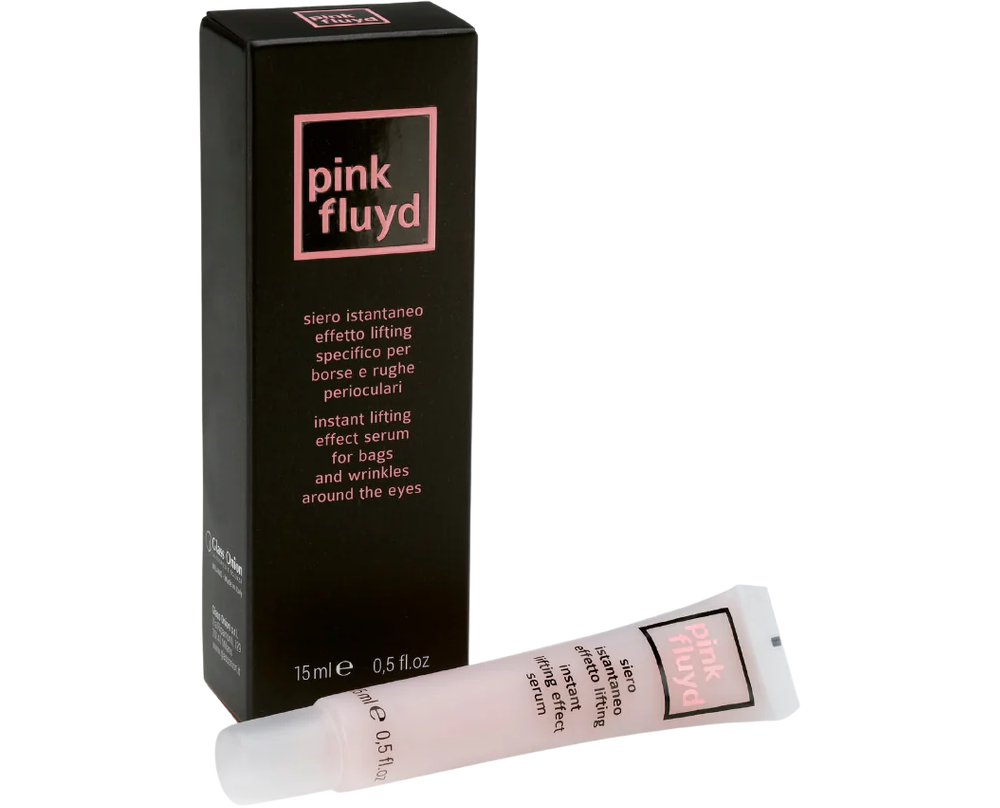 Wrinkles and Bags are running out of time
Pink Fluyd is a revolutionary fast-acting anti-aging serum, capable of solving the main blemishes around the eyes. In just three minutes the finest wrinkles are smoothed out and bags are reduced, after three weeks the results stabilize in a moisturizing and tightening effect. With this product, Glass Onion ushered in the era of flash cosmetology: particularly effective products with an instant effect, useful complements to daily self-care, balancing skincare and make-up. The uniqueness of the Pink Fluyd formula is that it contains both instantaneous and anti-aging active ingredients, thus guaranteeing the immediate smoothing out of bags and the eye contour simultaneously with a rejuvenation of the entire eye area with constant use over time.
The result
In 3 minutes
Small wrinkles are smoothed out and the skin will be visibly more toned and compact giving a lifting effect.
In 3 Weeks
The eye contour will be brighter and more homogeneous
Active principles
Apple plant stem cell extract (Uttwiler Spätlauber) with regenerating and anti-wrinkle action.
tripeptide-38
increases epidermal turgor. Considered the most avant-garde among anti-aging active ingredients due to its low molecular weight.
Vitamin E
powerful antioxidant capable of counteracting free radicals and reducing dehydration at the epidermal level.
Soft Focus
Micro-particles that have special optical properties, for which they diffuse the light and illuminate the deepest parts of the wrinkle, masking the shaded areas that form inside the furrow itself, thus giving the illusion of filling.
Betaine (Beta Vulgaris)
Substance of vegetable origin with marked moisturizing properties.
Frequent questions
1. What is Pink Fluid Eye Counter Cream?
Pink Fluid is a specialized skincare product designed to target the delicate area around the eyes. It is formulated to reduce the appearance of fine lines, dark circles and puffiness, promoting a more youthful and vibrant appearance.
2. How often should I use Pink Fluid Eye Counter Cream?
For best results, apply Pink Fluid Eye Counter Cream twice a day, in the morning and in the evening. Gently spread a small amount of cream onto cleansed skin around the eye area, avoiding direct contact with eyes
3. Can I use Pink Fluid Eye Counter Cream with makeup?
Absolutely! Pink Fluid Eye Counter Cream is designed to be lightweight and fast absorbing, making it an ideal base for makeup application. Allow the cream to fully absorb before applying makeup for best results.
4. Is Pink Fluid Eye Counter Cream suitable for all skin types?
Yes, Pink Fluid Eye Counter Cream is formulated to be suitable for all skin types, including sensitive skin. The gentle yet effective ingredients are designed to address common issues without causing irritation.
5. Is Pink Fluid Eye Counter Cream tested on animals?
No, Pink Fluid Eye Counter Cream is cruelty-free and not tested on animals. We are dedicated to providing effective and ethically produced products.