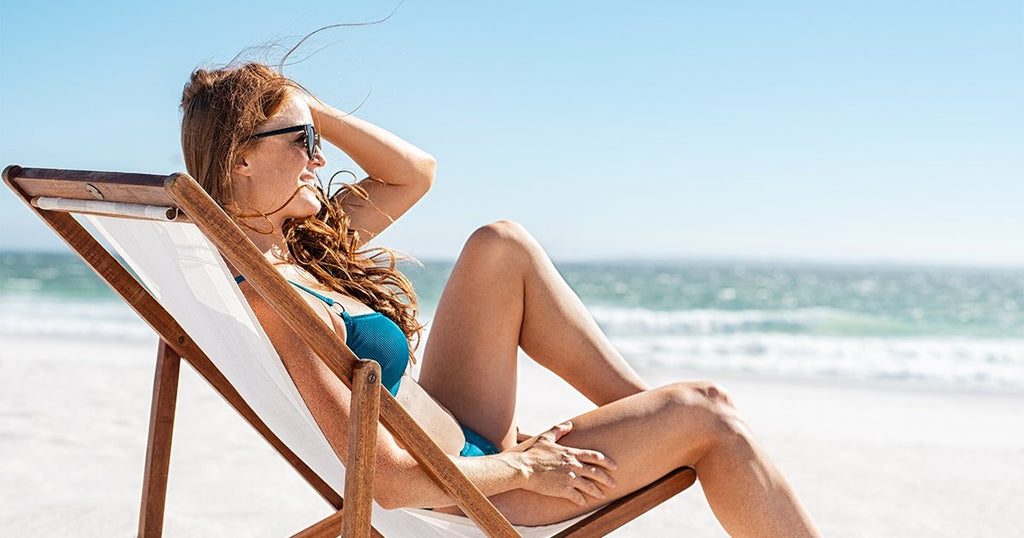 Don't become a dried tomato in the summer !

Summer is so beautiful , the feeling of freedom from clothes, the breeze by the sea, the scent of the woods in the mountains and evenings with friends and family in total relaxation!
We are in that time of year where we become radiant. I said radiant, not toasted … oh yeah because , sometimes, we forget to take care of ourselves and our skin and what do we do? We get out of the water after a swim in the sea and we rub each other well with the towel ... full of sand ... and maybe even stiffened by the salt because we are in the fourth bath! Or we forget to put on sunscreen at an altitude of 2500 meters or we still don't bother to hydrate well and the chlorine in the pool irritates our skin making us look like sun-dried tomatoes!
Not to mention the damages we pay for the rest of the year such as spots and wrinkles caused by photoaging …

AND THEN WHAT?
YOU FOLLOW THE BEAUTICIAN'S ADVICE OBVIOUSLY ☺
There are basically only two things that we must not overlook: moisturize the skin and protect it .
Remember to rinse and refresh your skin very well every time you get out of the water or after a walk in the sun, it's the first step in taking care of yourself , then, at home, to have a simple but effective facial treatment. impact, in the morning upon awakening and in the evening before going out, cleanse your face with micellar water , you can also make healthy compresses with cotton pads or tissue paper soaked in two or three sprays of Pink Water to hydrate and normalize the skin, dabbing or leaving it on for 5/10 minutes, in this way you will also have a delicate smoothing action given by the hamamelis .
The stem cells and cornflower extract will give you deep hydration and will soothe redness by regenerating the tissues. Wear the Sunshine serum morning and evening , one of the best face serums on the market, with a light and evanescent texture. Able to penetrate quickly without weighing you down. Rich in antioxidant active ingredients and melanin stimulant, it helps you get the perfect tan and protects you from free radicals.
During the day, sunscreen should ALWAYS be carefully spread all over the body before going out, so that it is easier to reach parts of the body normally covered by clothes. Repeat the application approximately every two hours and after getting wet . Finally ... I know that spritz and mohjito make you go home craving bed right away but think of my stern look and take off your make-up !
The skin works at night, uses the hours of rest to regenerate itself, don't make its already arduous task difficult ... especially powders such as fard and blush get dirty, are comedogenic and do not allow total transpiration. So spend the milk and the Phytoceutical tonic every night if you wear make-up, the Phytoceutical scrub once or twice a week, put the Staminalis anti-aging serum, the after-sun on the whole body in generous quantities and then go to sleep. It takes a few minutes but the feeling of well-being and contentment is indescribable.

I know I've gone on but, to give you a schematic idea of ​​the steps, I'm writing you a list of your summer beauty routine , you'll see that you'll thank me:

1- In the morning and when you return from the beach/swimming pool, cleanse your face with Pink Water or Milk and Phytoceutical Tonic.

2- Gently pat skin dry and apply two squirts of Sunshine Serum with fingertips and lightly rubbing from the center outwards and bottom up. Serum and moisturizing sunscreen must never be missing!

3-Before leaving the house carefully apply sunscreen on your face and body depending on your phototype, the first days of exposure use antiage cream with SPF 50 on your face. Repeat every two hours or after getting wet.

4-After washing and before going to dinner, apply a generous amount of after-sun on your face and body. This way the cream will moisturize dry skin and then enjoy the evening.

5- Before going to bed, carefully remove make-up with milk and Phytoceutical tonic – once or twice a week, massage a small amount of Phytoceutical scrub on the face, rinse, pat dry. A night serum for the face will also have a double moisturizing and anti-aging effect after a day in the sun.

6- Always apply two sprays of Sunshine serum with your fingertips and finally choose whether to use your favorite night cream on your face or after-sun which is, to all intents and purposes, a fantastic instant anti-wrinkle cream!