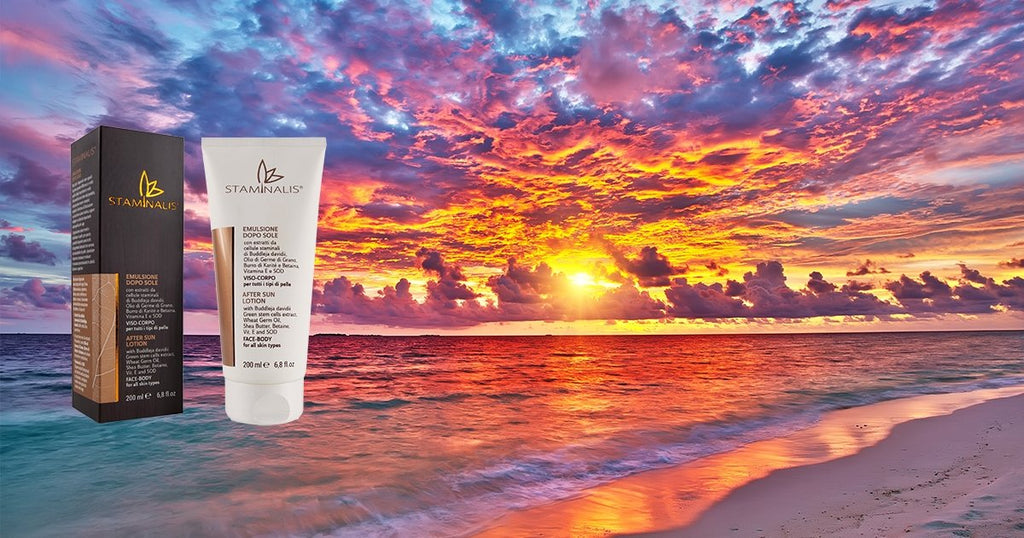 After-sun products are designed to alleviate the effects of sun exposure and improve skin conditions. After-suns counteract dehydration. After sun products restore the hydrolipidic film and capture free radicals. In fact, it is known that solar radiation first of all determines an inflammatory response in the skin (redness, erythema) which can cause more or less intense annoying sensations depending on the case. The soothing ingredients contained in the after-sun products reduce local inflammation and relieve the burning sensation associated with skin redness. As we have seen, sun exposure tends to dehydrate the skin, which is why after-sun products are rich in moisturizing ingredients. The ingredients with emollient and restorative properties in the after-sun products serve to soften the skin, restore the skin barrier and restore the substances lost during bathing or sporting activities. Finally, the antioxidants contained in after-sun products limit the damage caused by free radicals.
Glass Onion has developed a line of highly dermo-compatible sunscreen products, free of mineral oils, petrolatum and parabens capable of protecting the skin and generating a homogeneous and intense tan. In addition to defending it from UV rays, sunscreen products are characterized by a wide range of specific plant derivatives (primarily the extraordinary Buddleja Davidii stem extract) capable of counteracting free radicals, hydrating and softening the skin. Furthermore, within the Glass Onion solar products we find Vitamin E or Tocopherol and the enzyme SOD (Superoxide Dismutase) with a protective and repairing action.
And here is our extraordinary Italian Gold After Sun Milk emulsion:
Moisturizing and restoring after-sun milk.
After sun features:
after-sun emulsion, fixes the tan, regenerates, hydrates, nourishes and softens the skin, refreshes and calms redness, leaving an immediate feeling of comfort.
After sun functional substances:
extracts from butterfly tree stem cells (Buddleja Davidii), wheat germ oil, shea butter, moisturizing betaine, vitamin E and SOD
Tocopherol or Vitamin E: (Tocopheryl Acetate)
It is a fat-soluble vitamin capable of protecting the skin from free radicals, increasing skin hydration and slowing down the peroxidation of lipids.
SOD Superoxide Dismutase (Superoxide Dismutase):
Enzyme that deactivates the superoxide radical which is the free radical most produced by the body's biochemical reactions. Unlike reducing antioxidants (vitamins, carotenes, α-lipoic acid, etc.), enzymatic antioxidants tend to transform chemically reactive forms into stable ones. SOD in synergy with classical antioxidants is particularly active in photo-induced oxidation.
Buddleja Davidii (Butterfly Tree):
The stem cells of this shrub mainly produce verbascoside (glucoside with anti-inflammatory and photoprotective activity) also carrying out an antioxidant and anti-collagenase action.
Shea Butter (Butyrospermum Parkii):
Excellent derivative of the Karité nut, responsible for the emollient, hydrating and regenerating properties of the skin barrier. Rich in unsaponifiable fraction, it is therefore a precious natural anti-aging ingredient for the face and body, able to give the skin firmness and elasticity. Shea butter also contains tocopherols (vitamin E), which act as natural antioxidants.
Wheat Germ (Triticum Vulgare):
Press extracted from sprouted wheat seeds, this oil boasts a good percentage of linoleic and oleic acids, tocopherols, phytosterols and phospholipids. Its vitamin E content is very high. Excellent anti-aging, it is particularly suitable for the care of dry, relaxed and no longer young skins. In cosmetology it is used as a vehicle for emulsions and is indicated in the preparation of emollient, restorative and moisturizing products.
Betaine (Betaines):
Betaine, also known as trimethylglycine, is a hygroscopic substance of vegetable origin. It interacts strongly with water giving it special chemical-physical properties, managing to coordinate many water molecules at the same time. Betaine has the ability to protect cells from irritation caused by surfactant agents and improves the skin feel and conditioning effect of the product.