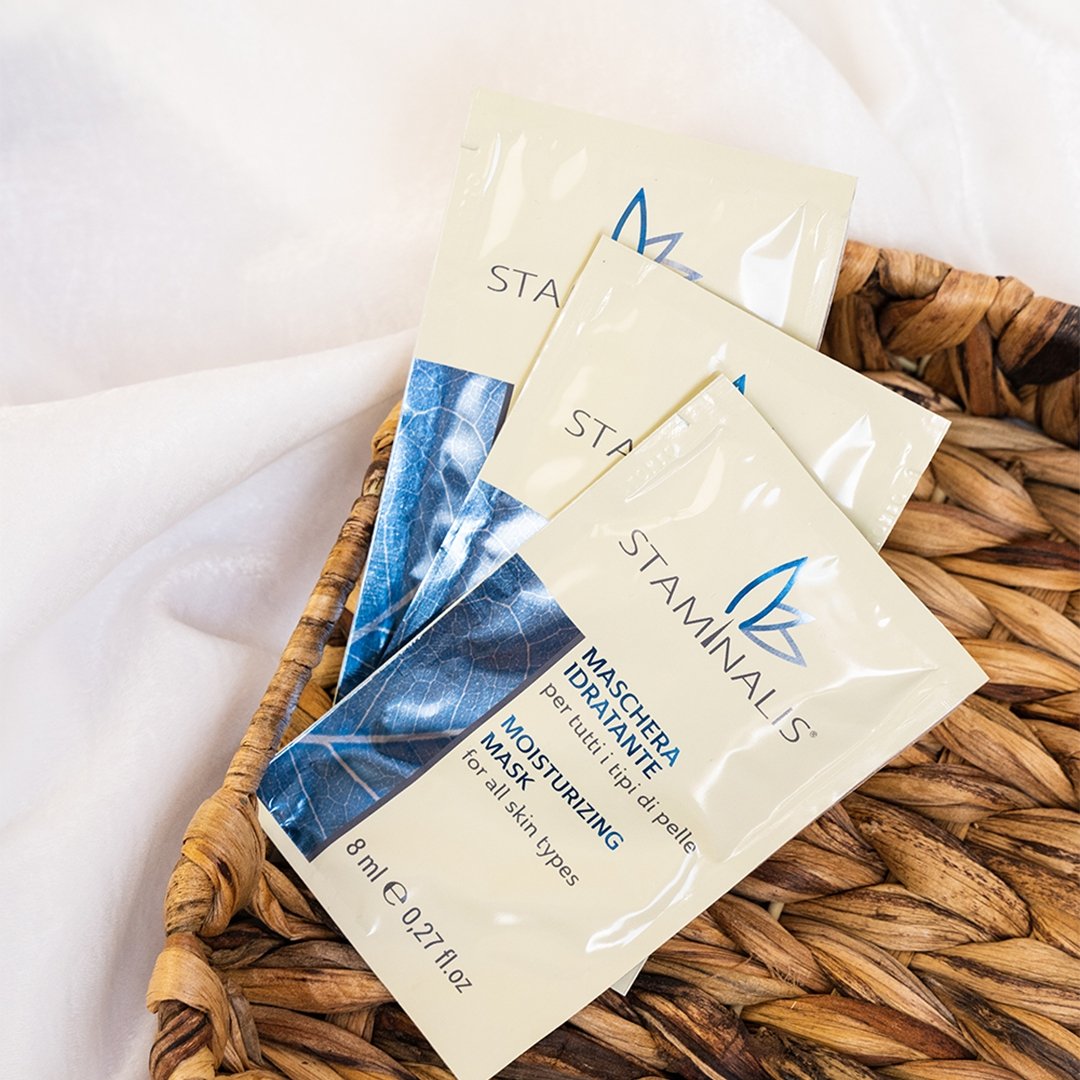 SET 10 MOISTURIZING MASKS
Descrizione

Recommended for:

The result:

How to use:

functional substances
The set consists of 10 stem moisturizing masks
Mask with a soft and silky texture, ideal for hydrating and reconstituting the hydrolipidic film after exposure to atmospheric agents such as sun, wind, cold and salt. It is suitable for all skin types that need a hydration boost. Rich in moisturizing and regenerating components, thanks to its restructuring properties it prevents and slows down the loss of transcutaneous water (TEWL) giving the face brightness, freshness, deep hydration and a priceless feeling of well-being.
the moisturizing home treatment from 25 years, for dehydrated skin, impoverished due to atmospheric agents such as wind and salt or in need of a plus of hydration.
extremely performing, this mask makes the skin well hydrated and regenerated, the reconstituted hydrolipidic film gives a wonderful feeling of well-being.
after cleansing, scrub and toning, apply a generous layer on the face, neck and décolleté, excluding the mucous membranes of the eyes and lips. Leave on for about 15/20 minutes then remove with disposable pads soaked in warm water. It is advisable to repeat the treatment about 1-2 times a week.
Glycerine: also naturally present in the epidermis, it plays a very important physiological role as recent scientific studies have shown that glycerin is one of the most important components of the Natural Hydration Factor (NMF). Source of hydration, this cosmetic ingredient reconstitutes the epidermal barrier.
Shea Butter: it has multiple properties, distinctly nourishing, it is also a valid aid for better dealing with atmospheric agents such as the sun and the wind, it helps to prevent the appearance of fissures, it stimulates healing, it is an antioxidant thanks to the important presence of vitamin E.
Macadamia oil: regenerating and emollient, an excellent ingredient to restore softness to the epidermis, moreover, being rich in palmitoleic acid, it is also an excellent antioxidant.
Rosa Centifolia: it has soothing, healing and stimulating properties of cell turnover.
NMF - Moisturizing Factor: with a deeply restorative action for the skin hydrolipidic film, this compound formed by sugars, amino acids, mineral salts and other natural organic and inorganic compounds, is ideal for particularly dry and dehydrated skin.
Hyaluronic acid: reactivates and stimulates the production of collagen and connective tissue giving skin firmness and hydration and limiting the harmful effects of TEWL (Transepidermic Water Loss).
Apple Stem Cell Extract: antioxidant, epidermal and anti-aging renewer, it reactivates the natural biological processes slowed down by stress, oxidation, smog, unhealthy lifestyle, smoking and alcohol.
Vitamin E: antioxidant, participates in the proper functioning of connective tissues, has moisturizing, soothing and protective properties against photoaging. Vitamin E also helps decrease water loss through transpiration (TEWL).
Phospholipids: regenerate the hydrolipidic barrier with a soothing, moisturizing and anti-inflammatory action.